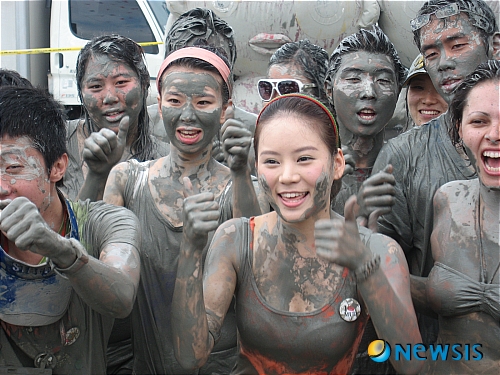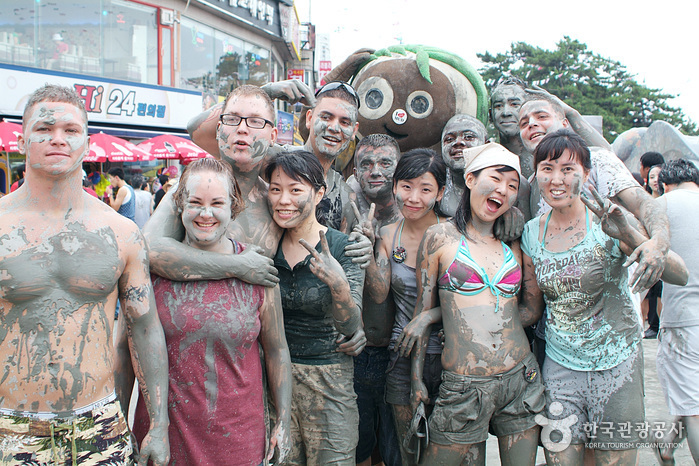 The Boryeong Mud Festival is an annual festival which takes place during the summer in Boryeong, a town around 200 km south of Seoul, South Korea. The first Mud Festival was staged in 1998 and, by 2007, the festival attracted 2.2 million visitors to Boryeong.
This year, the Boryeong Mud Festival kicked off at July 14, and will end on July 24.
At the Boryeong Mud Festival, you can get unlimited mud packs. The mud is rich in minerals and used to manufacture cosmetics.
During the festival, several large attractions are erected in the seafront area of Daecheon. These include a mud pool, mud slides, mud prison and mud skiing competitions. Colored mud is also produced for body painting. A large stage is erected on the beach, which is used for live music, competitions and various other visual attractions.
A small market runs along the seafront selling cosmetics made using the mud from Boryeong. Various health and beauty clinics offer massages, acupuncture and other treatments utilising the medicinal qualities of the mud.
Although the festival takes place over a period of around two weeks, it is most famous for its final weekend, where there are various events from concerts to marathons.
The festival is closed with a large firework display.
Come to Boryeong Mud Festival!
For more information, go to :
http://mudfestival.or.kr/english/festival/festival1.php